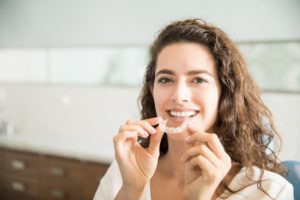 If you missed your chance for braces as a teen, or your teeth have moved over time, Invisalign can create the straight smile you desire. You don't have to worry about any noticeable brackets or wires. Instead, clear aligners provide a discreet treatment. Although it's never too late to improve your alignment or bite, here are 5 reasons summer is a great time to start your Invisalign treatment.
How Does Invisalign Work?
Traditional braces use a system of brackets and wires to gently pull teeth into alignment. Invisalign differs because a series of aligners are worn over your teeth to apply continual pressure to move your teeth gradually.

You must commit to wearing the aligners for at least 22 hours per day and switch to the next set in the series every 1 to 2 weeks, as instructed by your dentist.
Benefits of Invisalign Treatment
Invisalign is the preferred orthodontic treatment among teens and adults, and for good reasons. Here are just a few of the benefits you'll enjoy by committing to Invisalign this summer:

Less Time in the Dentist's Chair: You won't have to spend many days of summer in the dentist's chair because you won't need appointments for adjustments. However, you will still need to check in with your dentist so they can monitor the movement of your teeth.
Won't Affect Your Appearance: You will look great while laying out by the pool or taking vacation photos because Invisalign is virtually undetectable when in your mouth. You won't have anxiety about unnecessary attention drawn to brackets or wires, so you'll always look and feel your best.
More Time to Adjust: You can expect a brief adjustment period as you get used to wearing your aligners. With fewer school activities and work responsibilities, life tends to slow down during the summer. You'll have plenty of time to adjust to wearing them without having to worry about juggling as many daily responsibilities.
Enjoy Quick Results: Every case differs, but most patients are finished with Invisalign in about 12 months. By this time next year, you'll have a straight beautiful smile that's ready for summer.
Boost Your Professional Image: Attractive teeth are associated with youth, success, and confidence. Improving your smile will boost your self-esteem and ensure your teeth give the right impression to reach new career opportunities.
You don't have to spend another summer feeling less than your best. Invisalign can turn the smile of your dreams into reality using the clear choice in orthodontics.

About Dr. David W. Cordes
Dr. Cordes has been creating beautiful smiles for over 2 decades. After earning his dental degree from the University of Connecticut School of Dental Medicine, he continued his education in orthodontics and dentofacial orthopedics. He is a member of many professional organizations, including the American Association of Orthodontics. Request an appointment through our website or call (413) 402-6606 to find out if Invisalign is right for you.