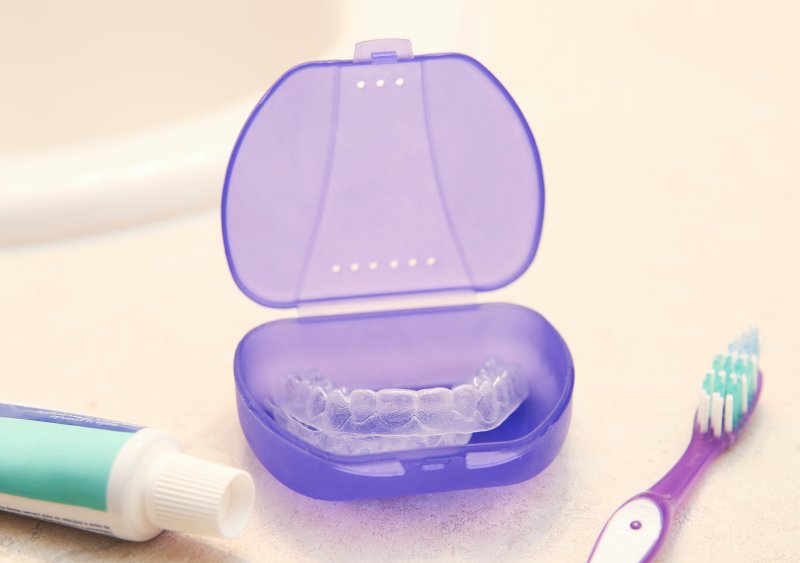 Invisalign has become an incredibly popular orthodontic treatment in recent years. It's capable of producing the same results as traditional braces in less time, more discreetly, and without any dietary restrictions. Given the success it's had, it's no surprise that there are imitators—plenty of DIY clear aligner kits claim to offer results comparable to Invisalign from the comfort of your home. However, straightening your teeth with only limited professional supervision carries significant risks. Here are some problems you might encounter from this treatment.
Letting Disease Slip Through the Cracks
The first thing your dentist will do when you start Invisalign treatment is to check you for any signs of disease or decay. It's important to catch these problems before your treatment begins, as moving your teeth around if you have advanced gum disease or tooth decay could potentially be dangerous. DIY clear aligners don't come with an in-person exam, and there's only so much that your provider will be able to find during a virtual visit. That means a much greater risk that something could fall through the cracks.
Your Teeth Could Get Worse
Having a professional closely monitor your progress with Invisalign treatment is the best way to ensure that your teeth are moving optimally. That's important because there probably will be problems at some point during your treatment, whether it be a few teeth that can't move past each other or that are just not moving as quickly as your dentist predicted. Infrequent virtual visits might miss these issues. You could potentially wind up with teeth that haven't gotten much better, or that actually look worse than when you started.
Slow to Treat Problems That Arise
Even if your virtual dentist discovers that there's an issue with your aligners, there unfortunately isn't much they can do about it remotely. You'll have to make do with either a radical redesign of your aligners, or you'll have to contact a local orthodontist to fix your problems. Both are significantly slower than if these problems were discovered by an in-person dentist at a regular appointment. Moreover, needing to find a local provider eliminates a lot of the promised convenience of the DIY kits.
While DIY aligner kits might sound convenient, they tend to be much more trouble than they're worth. If you want professional-level results, there's only one thing to do: talk to a professional.
About the Author
Dr. David Cordes is an orthodontist with over two decades of experience, and even after all this time, the look on his patients' faces when they see the results of his work still hasn't gotten old. In fact, his favorite thing about his work is getting to witness his patients' confidence grow when they finally finish their orthodontic treatments. Dr. Cordes is a graduate of The University of Connecticut School of Dental Medicine, where he routinely teaches orthodontics to this day. If you have any questions about Invisalign clear aligners, he can be reached at his website or by phone at (860) 749-1909.