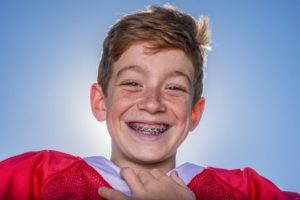 Whether you enjoy playing a casual game of ultimate frisbee with your friends during the summer or are part of a professional team year-round, sports are a great way to stay in shape and build a community. Fortunately, undergoing orthodontic treatment doesn't have to get in the way! If you are interested in straightening your teeth but would like to do a bit more research before scheduling your appointment, keep reading for the answers from your orthodontist in Westfield to a few of the most frequently asked questions about playing sports with braces.
Can I Still Play Sports If I Get Braces?
Absolutely! In fact, thanks to Invisalign's removable aligners, you can store your braces in a protective case while you play. Just make sure to wear them for 20-22 hours a day to stay on track with your treatment plan. If you need traditional orthodontics to achieve your smile goals, don't fret. Although the metal brackets and wires require some additional care, they won't prevent you from participating in your sport of choice.
How Can I Keep My Teeth Safe?
The last thing you want is for a smile-related injury, like a knocked-out tooth, to derail your treatment timeline. The good news is that there are a few preventive measures you can take to protect your teeth. To start, always wear a mouth guard (even during noncontact sports). This simple-yet-powerful appliance can prevent broken brackets, soft tissue injuries, and other unpleasant dental emergencies.
Next, make sure to prioritize your at-home oral hygiene routine to keep your teeth and gums healthy. A few good practices include brushing at least twice a day, avoiding sugary sports drinks, and visiting your dentist every six months for a checkup and cleaning.
I Broke My Braces – What Should I Do Now?
If your braces break, do your best not to panic. Instead, follow the below steps:
Assess the damage. Potentially life-threatening conditions, like difficulty breathing or a broken jaw, require a visit to your local ER.
Call your dental team and schedule a same-day appointment.
Gather any broken pieces.
Rinse with a mixture of salt and warm water.
Place a cold compress against the outside of your cheek.
Take over-the-counter pain medication.
If you are having difficulty smiling confidently due to crooked, gapped, or misaligned teeth, take comfort in the fact you can still enjoy sports with braces. After all, with the right preventive measures in place, you won't even notice they are there!
About the Author
Dr. David Cordes earned his dental doctorate from the University of Connecticut, then remained at the university to complete a three-year specialty program in orthodontics while also earning a Master's in Dental Science. He is a member of the American Association of Orthodontics and the American Dental Association. If you are interested in playing sports with braces, Dr. Cordes is ready to help align your smile with options to make treatment affordable. If you ever face an orthodontic emergency, same-day appointments are available. Schedule a visit on his website, but if it's an emergency, call (413) 562-8100.